But when the Pharisees heard that He had silenced the Sadducees, they gathered together. Then one of them, a lawyer, asked Him a question, testing Him, and saying,  "Teacher, which is the great commandment in the law?"
Jesus said to him, "'You shall love the Lord your God with all your heart, with all your soul, and with all your mind.'  This is the first and great commandment.  Matthew 22:34-40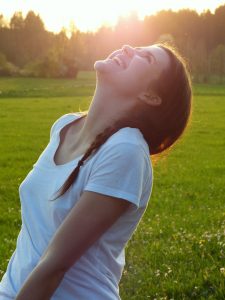 I shared in the last devotional that Jesus' commandment to love the Lord has different elements that we should slow down and meditate on. Last time, I wrote about loving the Lord with all our hearts. In this devotional, I will share about loving the Lord with all our souls.
How do we love the Lord with all our souls!? The more we allow our soul to come under the direction of the Holy Spirit, the more spiritual we become, which allows us to love the Lord genuinely rather than out of our fickle feelings or thoughts of the moment! Before we knew Christ, our soul was in charge, and it took its cues from the natural world and our five senses. We were carnal beings before we came to salvation. Carnality has to do with all the fleshly desires and operating only from a natural and visible perspective. After salvation, our spirit man should grow to become the one in charge and our soul should come under its control, otherwise we will love the Lord based on our natural senses and circumstances rather than our communion with God!
And I, brethren, could not speak to you as to spiritual people but as to carnal, as to babes in Christ. I fed you with milk and not with solid food; for until now you were not able to receive it, and even now you are still not able; for you are still carnal. For where there are envy, strife, and divisions among you, are you not carnal and behaving like mere men?  For when one says, "I am of Paul," and another, "I am of Apollos," are you not carnal? 1 Corinthians 3:1-4
Paul told the Corinthian believers that they were carnal. One of the ways that we know someone is carnal is that they have remained childish in their faith and refuse to grow up. They cannot handle weighty things of God, and they are still in need of milk to be nourished and nurtured by someone else. Their spirit man has remained infantile!
If we are going to love the Lord with all our souls, we need to have a soul that is surrendered to our spirit man. The Bible directs to grow up and to put aside carnality. Paul gave us some of the symptoms that can help determine if we are fleshly and carnal or if we are spiritual. He told the Corinthian believers that they have factions, envy, strife, and division. These individuals were still controlled by their carnal nature, and they had not allowed the spirit of God to take control of their  souls.
Unfortunately, carnality is prevalent in the body of Christ. We can see strife, division, and competition between different members or groups in the church. Generally, people claim that it is somebody else's fault. Someone else is the problem or started the strife. The truth is that carnality begets carnality, and we don't have to allow others to trap us in it.
A spirit-led life requires self-control, forgiveness, and trust in the Lord in order not to get engaged in carnality. We cannot control or correct others' behavior. Our part is to not get into the ring of strife and avoid a carnality that would feed the flesh and cause more harm for us and others.
Jesus has commanded us to love Him with all our souls.  We don't have to allow anyone to pollute our souls. We can say "no" to our flesh. We have to continually subject the soul to be controlled by our spirit man rather than our fleshly tendencies. It is not an easy process, but the more we do it and see the fruit of the spirit developing in us, we grow in maturity. It also allows us to have more faith the next time when a situation comes up that tries to take over our souls and cause us to walk in carnality!
Thank you Lord for making us aware that many times we have been carnal and have not loved you with all our souls. Please forgive us for not obeying your first commandment. Give us the grace to remain alert and to allow the Holy Spirit to take control of our souls!
Image by silviarita from Pixabay