At that time Jesus answered and said, "I thank You, Father, Lord of heaven and earth, that You have hidden these things from the wise and prudent and have revealed them to babes. Even so, Father, for so it seemed good in Your sight. All things have been delivered to Me by My Father, and no one knows the Son except the Father. Nor does anyone know the Father except the Son, and the one to whom the Son wills to reveal Him. Come to Me, all you who labor and are heavy laden, and I will give you rest. Take My yoke upon you and learn from Me, for I am gentle and lowly in heart, and you will find rest for your souls.  For My yoke is easy and My burden is light." Matthew 11:25-30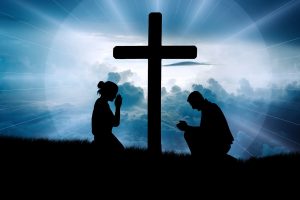 I shared in the last two devotionals in this series that repentance leads us on the path to being refreshed. In addition to repenting, we also need to reset our hearts' attitude in how we relate to the lord and how we receive from Him.
Jesus declared that those who rely on their own wisdom and prudence cannot grasp the Kingdom of God! The Lord hides Himself from those who are trying to find Him with their own natural strength. However, those who remain dependent as newborn babes, God is pleased with, and He chooses to reveal Himself to them!
We all grow from being a newborn babe in the Lord to a greater maturity in God, and we are all happy and excited about it! As a matter of fact, our Bible teachers, pastors, and mentors continue to encourage and exhort us to to strive towards maturity. The challenge is that as we mature in God, we have a tendency to think that we have figured God out and we know His ways. But, truth be told, we really don't know as much as we think we do. We don't always have clarity in life, and we are just as dependent on the Lord as we were when we first believed!
From time to time, we need to press the reset button and go back to the basics of our faith. We all need recalibration from time to time. Any instrument  requires a recalibration to ensure the integrity of its function and to display accurate information against an established standard. For example, you may have a scale at home that you measure your weight with. After sometime, you find that the indicator does not line up exactly with zero, but it is off to one side or the other side of zero. If you want accurate measurement of your weight, you need to recalibrate your scale from time to time and line it up to zero, so it can accurately measure your weight.
Spiritually speaking, we also are in need of reset and coming to the place of acknowledging that we know nothing apart from the Lord and His revelation. We cannot live on old manna and neither can we live on our past successes with the Lord. Furthermore, we cannot use our ministries as a sign of maturity, holiness, or revelation. We are all dependent on the Lord whether we are a Bible scholar, in full time ministry or not.
The above scripture encourages us to reset our spiritual gauge in humility and learn to depend wholly on the Lord! To be like a babe in the spirit means that not only we are not afraid of asking for help, but we also welcome the help! Babies are not afraid of others knowing about their needs. We also don't need to be afraid of other people seeing our weaknesses and giving them room to help us. Just like babies, we can be vulnerable and transparent. 
Jesus declares that we will find a place of rest in Him when we come to Him and learn from His humility and vulnerability.  The flesh does not like to feel helpless, but it is in humility and simplicity of faith that God is pleased to reveal Himself to us! We no longer have to act like we have all the answers. Instead, we yoke ourselves to Him and let Him take the lead in our lives. We don't need to carry the burdens of "what ifs," because we know we are not in control but Jesus is. We can lay down striving, worry, and anxiety and be refreshed by the rest He provides for us.
God's work begins when ours ends and we give Him room to lead. He knows where He is taking us and we can be rest assured that we won't be lost. He has a good plan for our lives! Today, meditate on the above passage and be refreshed by resting in Him!  Allow Him to be your Abba Father! Feel His embrace and His reassurance, and Let Him love you and give you rest!
Image by Gerd Altmann from Pixabay