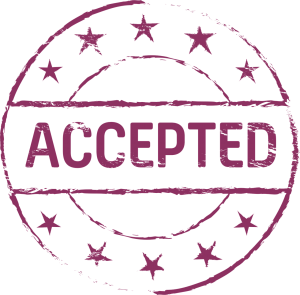 Insecurities are an attack on the truth of who we are in Christ and our secure identity in Him. We are already approved by God!
Having predestined us to adoption as sons by Jesus Christ to Himself, according to the good pleasure of His will, to the praise of the glory of His grace, by which He made us accepted in the Beloved. Ephesians 1:5-6
According to Strong's Concordance:
G5487: (Made us accepted):
to make graceful

charming, lovely, agreeable

to pursue with grace, compass with favor

to honor with blessings
I have quoted a portion of the above passage many times, but I have focused on the fact that God has accepted us in the beloved. However, the scripture tells us that God has made us accepted in the beloved. God's loving and gracious act made us acceptable! He has blessed us with honor and favor in accepting us because of Jesus and His work on the cross!
The fact that God has made us accepted in Jesus takes away the pressure to perform in order to be accepted. We have been made right with God not based on our performance but because of Jesus' sacrifice on the cross.  This is the cornerstone of our faith, and it is the place we need to return to in times of insecurity. 
Many insecurities come from the fear of not being accepted by people. What if they abandon the person?! What if they walk away from the relationship because they are hurt or offended!? The truth is that humanism and reinventing ourselves opens the door to onslaught of insecurities, so abandonment and rejection will become the norm. People will continue to insist on their rights to be accepted and if they don't receive it they will be offended and rejected.
Furthermore, many people look for encouragement and agreement from them. They don't want correction or truth for they perceive it as judgement. As a result, we will see scriptures fulfilled, which have already warned us that people will be lovers of themselves and that offenses will come. The by-product of this attitude and behavior will be to easily cut off relationships with others. This truth makes it even more critical and urgent for us to deal with our insecurities, so that when we are subject of displeasure or disapproval, we can remain steady in God.
The Good Samaritan story has something to teach us about relationships. The Jewish man had fallen on hard times and had no one to help him. Interestingly, his own countrymen and the religious people did not come to his rescue, but a Samaritan man showed him compassion and great care. He may have expected that certain individuals would come to his rescue, but the help came from an unexpected place. The truth is that God has provision for His children, and He will provide for them as He sees fit.
Similarly, when we look at Paul's life and his journeys, we see that the Lord provided support and assistance wherever he went. If he had been concerned about the right kind of people or support, he may not have made many of his missionary trips. However, he relied on the Lord as he went from place to place. The Lord blessed him by bringing a variety of people who were generous with him and showed him kindness and compassion.
Insecurities are part of the fallen nature, and Christians will have to deal with them from time to time. However, if we give them room or excuse them, they will make us temperamental Christians. We cannot allow people and circumstances to have that kind of control in our lives. Instead, we need to remind ourselves that God has made us accepted. This truth is the sword of the Spirit that will help us cut off the head of insecurity and be diligent in addressing it, so we can be a steady light in a fallen world.
Image by Mustafa shehadeh from Pixabay